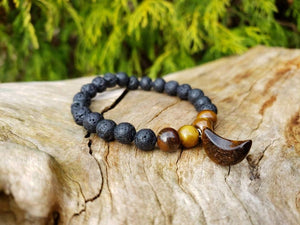 The pictures above are examples of these crystal combinations. I invite you in allowing me the opportunity to intuitively curate your custom piece around these crystals. Sure, yours may turn out like the picture. If you are drawn to that, by all means, advise that in the order comments. Otherwise, this Mala will come intuitively created for your spirit <3
About Your Mala
Tiger Eye
Tiger's Eye merges the vibration of the Earth with those of the Sun. This stone can offer support for new beginnings and helps in reestablishing the harmony of our lives. Tiger eye protects the person who wears it, especially during long journeys. It also enhances the feelings of security and self-respect. Tigers eye is an excellent stone for increasing the power of personal will. It helps us acquire abundance and wealth and enhances the stability and balance that lead to maintaining the acquired wealth. This stone helps us fight the greed and misuse of power.
Lava Rock
Lava Rock is a grounding stone that strengthens one's connection to Mother Earth. It gives us strength and courage, allowing us stability through times of change. It provides guidance and understanding in situations where we may need to "bounce back". A calming stone, it is very useful in dissipating anger. It promotes positive changes where needed in behavioral issues. Lava Stone enhances fertility. Lava Rock is also a Root and Sacral stone. A powerful crystal for detoxification and release. The 72 minerals allow for the central and nervous system to balance out. Used for essential oils.
Every gemstone bead is unique and one of a kind so color may vary slightly.